The interest rate set by the European Central Bank is, according to current statements from the central bank, to remain at its minimum. Mortgage specialist Eva Špaňová reckons that this is good news for those who are still postponing the purchase of real estate, as this may change in the near future. She also advises clients who already have a mortgage, as well as those still only considering one, that this year they should focus on the choice of fixed rate.
A rise in interest rates this year is questionable
Interest rates over the past year have been at historic lows in Slovakia, and still haven't shown any signs of a rebound, with only a few exceptions that applied to shorter three-year fixed-rate mortgages. The European Central Bank has so far kept the interest rate unchanged at the same level. It is assumed that the rate should not be increased in the first half of the year. Eva Špaňová, mortgage specialist from Broker Service Group Slovakia, a.s., clarified the situation: "However, if there is an increase in interest rates this calendar year, it will probably be only a minimal change. So this year, clients still have a chance to agree a mortgage on excellent terms."
The last interest rate rise by the European Central Bank was back in 2011.
Development of the ECB base rate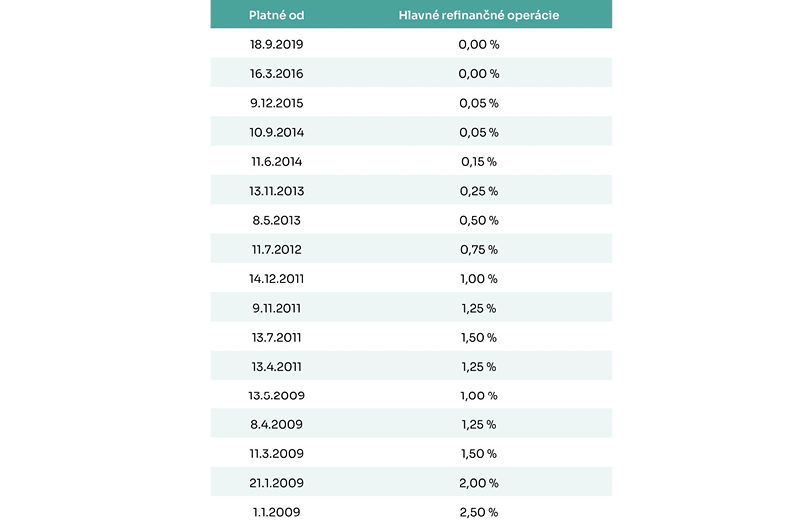 How to decide on the right length of a fixed rate mortgage?
The client has a choice from a large number of fixed rate periods, most commonly they are short-term (3-year), medium-term (5-year), and long-term (10-year). While at one bank the difference between a short-term and long-term fixed rate is 0.1%, at another bank, this difference may be up to 0.9%.
In recent times it has often happened that clients choose a bank according to the preferred fixed rate, because the interest rate differences for the same period are significant.
Some clients prefer a short-term fixed rate because they will save a few euros, or a few dozen euros. The advantages of a short-term fixed rate period include the fact that if clients apply for a maximum mortgage on the basis of their income, in the case of a fixed-rate period they can obtain more funds than in the case of a long-term fixed rate, since the instalments there work out lower.
Other clients opt for a long-term 10-year fixed rate period, due in particular to the certainty of future repayments. Their interest rate currently ranges from 0.99% p.a.. The main reasons for choosing a long-term interest rate, besides "certainty", is the fact that interest rates no longer realistically have any more room to fall further, compared with the possibility for rises.
The decision as to which fixed rate period is most advantageous is very hard to predict. We would be able to calculate this exactly only if we knew in advance what market interest rates will be exactly in for example 3, 5, or 10 years, which of course is not possible.
"It is good to know that at most banks, clients have the possibility to ask the bank to change the index rate fixed period at any time, i.e. even during an ongoing fixed period. This reassessment is usually subject to a fee, though in many cases it is still welcome and popular with clients," said Eva Špaňová, adding, "in this regard, I recommend that clients check with their mortgage specialists."
What are the differences in instalments at the different interest rates?
At 30-year maturity

At 20-year maturity

Preparing ahead for an interest rate rise is possible
Although we do not yet know when rates will rise, we can get ready for it now by choosing the right fixed rate. The development of interest rates in commercial banks in Slovakia depends on the development of the interest rate at the European Central Bank.
One of the possibilities is that mortgage interest rates will rise before the central bank raises interest rates. According to Eva Špaňová from BSG Slovakia, this may happen on the basis of analyses by banking analysts, as well as on the basis of economic indicators and expected measures by the ECB. "I believe that we needn't worry about any major changes in the short term,," added Eva Špaňová.
The best time for buying real estate is right now
Eva Špaňová considers the current situation, from the mortgage aspect, to still be optimal for buying real estate: "If more careful clients are now deciding about buying real estate, they have the best time for buying under still excellent lending conditions and an interest rate even when fixed for 10 years. If on the other hand clients do not suffer for longer term interest rate fixing, they may opt for medium-term or short-term fixing with the historically lowest interest rates on the market." Property prices in future will continue to rise, particularly in Bratislava and the surroundings, with regard to the short supply, and also rising prices of building materials.
If you are interested in a mortgage, mortgage specialists from Broker Service Group Slovakia are available daily at the branches of RK Herrys, where they provide free consultations on real estate financing. At one meeting with a mortgage specialist, you will get an overview of the offers of all banks, current special offers, interest rates, and fees.
You can get more information about mortgage consultations and specialists from Broker Service Group Slovakia, a.s. here https://www.herrys.sk/financovanie.
You can roughly calculate your mortgage also from the comfort of your own home by using the online mortgage calculator from Herrys real estate agency. Just go to the page https://www.herrys.sk/financovanie?#hypokalkulacka, where after completing the short form, you will receive an indicative mortgage calculation, and this will make it easier to select the most suitable offer.
About Broker Service Group Slovakia, a.s.
The basic philosophy of the company Broker Service Group Slovakia, a.s. since its establishment in 2007, has been to represent the client and defend the client's interests towards financial institutions. Specialists in mortgage loans, life insurance, non-life insurance and investments daily help clients find their way among the range of products and services offered by financial institutions.