Bratislava centre, especially the new downtown and its surroundings, are becoming increasingly attractive for life and living, but the offer of real estate at these locations does not satisfy market needs. One of the reasons is the limitations of the city's zoning plan, setting out how much space there should be for housing and how much for civic amenities. Nevertheless, the city's actual development has shown that people want more space for housing in the centre, so projects are offering studio flats in addition to normal apartments. JUDr. Martin Bečár, partner of Herrys real estate agency, talks about what buyers should look out for when buying a studio flat.
New development projects are currently seeing the addition of non-residential studio flats (apartmány). What are the reasons for this?
It is necessary to distinguish two quite different reasons. The first is when studio flats are created in response to the city's zoning plan, which, although it considered housing at the location, it stipulated fewer apartments and more civic amenities. Nevertheless, the market demands more space for housing, and changing the zoning plan is a very lengthy process, despite the city's efforts, and the zoning plan is now out-of-date. Consequently, in an effort to meet demand while respecting the relevant legislation, developers have expanded their housing offer to include studio flats in addition to normal apartments. The situation is different when a property is classified as a studio flat due to not conforming to a certain technical standard.
Where specifically in Bratislava are such properties being built?
For instance, there are the locations of Mlynské Nivy or Čulenova, in the new downtown. Construction there is the result of demand from the side of society. People want not just to work and shop there, but also to live and have a life. The city did not anticipate such a demand for housing here, but, as the saying goes, development cannot be stopped, and people naturally create a new city centre.
And the second reason?
The second reason is when the studio flat does not meet the technical parameters for a normal apartment. For example, when less sunlight or more noise come into an apartment than specified in the standard. The future buyer of the property should find out why the given space is marked as a studio flat, or non-residential space.
What is the demand for studio flats? Do people want them?
At Herrys, we see that people's willingness to buy studio flats is growing,every year despite certain legal downsides associated with this sort of investment. On the other hand, studio flats are cheaper compared to apartment units.
What is the quality of living in a studio flat compared to a classic apartment?
If a developer is seeking use approval for a space defined as a studio flat due to being bound by the zoning plan, it is likely that the studio flat meets all standards as a normal apartment with no difference for the user. But, if the studio flat does not meet certain light-technical or sound standards, a certain degree of discomfort may be present here. For example, a normal apartment requires a certain number of minutes of direct sunlight, but if fewer of these have been measured here, it can no longer be classified as an "apartment". Some people need not find this important. If someone leaves for work in the morning and returns in the evening, or spends weekends outside the city, then the length of sunlight is not of such importance for them. We see that in recent years, many Bratislava residents favour less sunny properties, not exposed to heat in the summer. These are mostly apartments and studio flats facing north, east or ground floors of houses.
What are the biggest advantages and disadvantages of a studio flat?
The developers are aware that at the given location they are selling something other than apartments – from the legal aspect. Therefore, they try to offer the buyer certain motivating benefits. The biggest advantage is usually a lower purchase price, which can 10% to 20% lower than a comparable apartment in the given project. A benefit that must be considered may also be the higher standard or facilities of a studio flat. As for the disadvantages, one of them may be some legal inconvenience, such as increased tax or stricter financing conditions, where the bank may require a higher share of the client's cash when buying. The client should always check in advance whether the bank where a loan is being requested will approve the financing of a studio flat and under what conditions.
Who is the purchase of a studio flat suitable for? Investment clients or for the end user?
Investment as well as for housing. It allows clients to buy a space for living, often with the same or similar parameters as an apartment in a given project and under financially more advantageous conditions than when buying an apartment. And the difference in price can be invested by the buyer in furnishing the studio flat, for instance.
Could you give an example of a tax calculation for a studio flat in the city centre?
Today, the difference between an apartment and a studio flat in Bratislava is double. For example, in Bratislava, in the cadastral area of Staré Mesto, an apartment with 50 m2 floor space costs 1€/m2/year in tax, i.e. a total sum of €50, whereas a studio flat in an apartment building is at the rate of 2€/m2/year, i.e. €100. As a rule, the difference goes in tens of euros per year.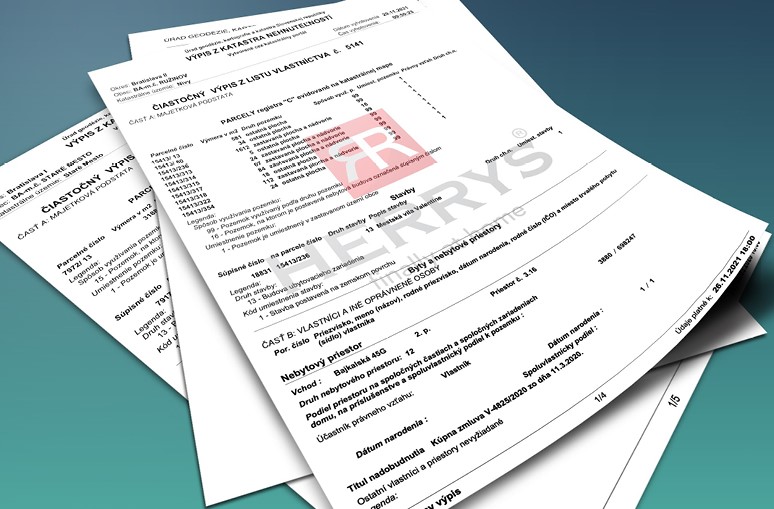 How do buyers react to these advantages and disadvantages?
Buyers are aware of acquiring a property at an attractive location that would otherwise be out of their reach, and the discount on the price is also a motivating factor for them. But they should be prepared for some inconvenience when acquiring a studio flat. They should bear this in mind and thoroughly familiarise themselves in advance with the conditions regarding technical matters or financing.
What about getting a permanent residence registered at a studio flat?
Buyers should be aware that the registration of their permanent residence at a studio flat may depend on their ability to sufficiently argue their case at some local authorities. Working from Act no. 253/1998 Coll. on reporting the residence of citizens of the Slovak Republic and the register of inhabitants of the Slovak Republic, it is possible to use the argument that if there is any share of housing function in the building, if there is any percentage of apartments, then there should be the possibility of registering for permanent residence. It always depends on the specific case, the opinion of the particular local authority and having adequate arguments prepared.
Is a studio flat a worthwhile investment? How do prices of studio flats grow compared to classic apartments?
Studio flats have a lower price than the price of apartments, but again a higher property tax. I am of the opinion that, given the amount of the purchase price, they are still an attractive investment. In central locations, the appreciation of real estate investment will grow.
Are parking places available for studio flats?
Yes, there are. As are all the other services of the house available to the owners of residential premises.
JUDr. Martin Bečár, partner of Herrys real estate agency